🇺🇸 Honoring Our Heroes: A Veterans Day Salute from the Warrior Sailing Program 🇺🇸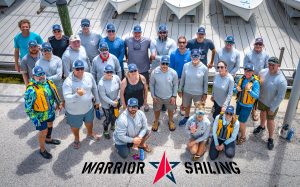 The Warrior Sailing Program extends its deepest gratitude and heartfelt appreciation to the brave men and women who have served and sacrificed for our great nation. Today, we stand united to honor the indomitable spirit of our veterans, whose courage knows no bounds.
⚓️ Setting Sail on a Journey of Healing and Empowerment
At the heart of the Warrior Sailing Program lies a commitment to empowering our veterans through the therapeutic power of the open sea. We believe in the transformative potential of the wind, waves, and camaraderie that sailing provides. Our mission is to not only teach the art of sailing but to foster a sense of purpose, camaraderie, and accomplishment among our honored veterans.
🌊 Navigating Challenges, Finding Strength
Just as the sea is both beautiful and challenging, so too is the journey of our veterans. Through the Warrior Sailing Program, we witness firsthand the resilience and strength that define our servicemen and servicewomen. With every sail, they confront challenges head-on, proving that the warrior spirit endures long after the battles are fought.
🙏 Thank You for Your Service
To our veterans, we say thank you. Thank you for your service, your sacrifice, and your dedication. The Warrior Sailing Program is honored to be a part of your journey, and we stand with you in admiration and respect.
May this Veterans Day be a moment of reflection, remembrance, and renewal for all who have served. Fair winds and following seas to our heroes—today and every day.
#VeteransDay #WarriorSailing #HonoringHeroes #ThankYouForYourService