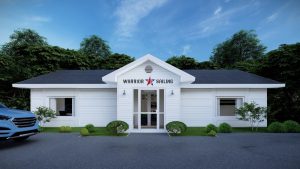 Lake Charlevoix and Northern Michigan has become a summer home for graduates of the Nationwide training camps.  The location has hosted racing teams advancing their skills and participating in the annual offshore race Chicago-Mac race, as well as hosting Coastal Cruising 103 certifications throughout the last 3 years being based on Lake Charlevoix.
Charlevoix is a beautiful resort community located in the northern part of Michigan's Lower Peninsula, situated on the shores of Lake Michigan and Lake Charlevoix. The town is known for its scenic beauty, including crystal-clear lakes, sand dunes, and rolling hills.
The Warrior leadership team are embarking on a re-model project that will support a long-term vision of a summer home base in the Great Lakes region.  Construction is in progress and updates will be coming out continually as this project creates more advanced sailing opportunities for the directorship, racing, and cruising enthusiasts involved in Warrior Sailing.  A long-term lease was provided by the Charlevoix Yacht Club leadership and the town has embraced the initiative.  Fundraising and groups are scheduled throughout the summer to help make this project successful.
The goal is to have the funding ($150,000) and remodel completed by the end of the sailing season 2023.  This would allow us to host Warrior Sailing graduates from the Nationwide camps in 2024!  Keep an eye out for the progress! Any financial help is greatly appreciated and will assist Warrior experiences for years to come.
Support the Clubhouse Efforts Here