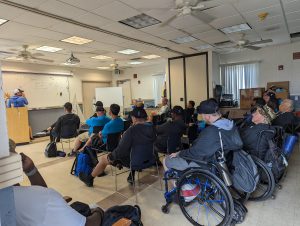 The VA Summer Sports Clinic is a unique program specifically designed for injured veterans to promote rehabilitation, fitness, and overall well-being through adaptive sports. It is organized by the Department of Veterans Affairs (VA) in collaboration with various partners and takes place annually during the summer months.
The VA Summer Sports Clinic aims to provide opportunities for disabled veterans to participate in a variety of adaptive sports activities. These activities may include wheelchair basketball, cycling, kayaking, sailing, fishing, surfing, rock climbing, archery, and more. The clinic offers a supportive and empowering environment where veterans can learn new skills, enhance their physical abilities, and engage in recreational sports.
The Warrior Sailing Team had the pleasure of working with 130 veterans and introduce them to the sport of sailing!