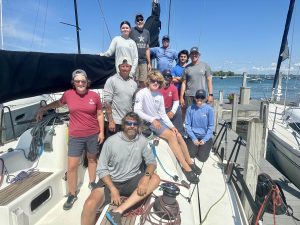 What happens when you mix a few youth sailors, warriors, legends, and coaches in the mix…magic! This past weekend the Warrior sailing team raced the Beneteau 40.7 in the Little Traverse Yacht Club's Ugotta Regatta.
A special thank you to USMMA Sailing Foundation's Ralf Steitz for joining the team on the water along with program director Ben Poucher and Communications & Outreach Coordinator Corey Hall.
The warrior sailors were even joined by a few special guests from Sail Charlevoix!
This year's event featured tricky conditions, varying wind velocities and TONS of FUN! The team fished day one with a victory, day two with a third place, to end the series with a second place finish overall! Way to go team!